One of the compromises that buyers make by keeping the budget down is the sound output. In general, budget-friendly soundbars come with a small speaker that lowers down the quality of sound output. It makes the action sequences and sequences with surround sound underwhelming.
Thankfully, you have a couple of options to choose from that produce immersive sound under a tight budget. You can have a better streaming experience when you play video games or stream movies.
We know that it becomes overwhelming to choose one out of the plethora of options available in the market. It is the reason why we came up with a list of soundbars that produce immersive sound. Picking one of the soundbars would cost you less than or equal to 10000.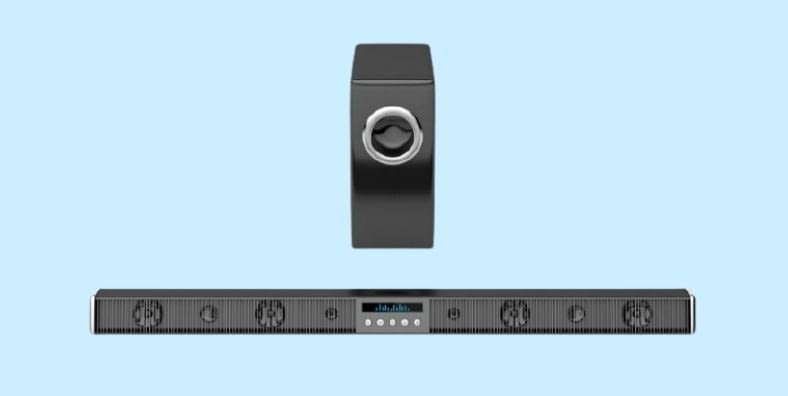 Samsung t45e Soundbar
If you're looking for a 2.1 sound system with 200 watt sound output, turn to the Samsung T45e system. In terms of connectivity, it comes with optical in, Bluetooth, and USB. However, it lacks an HDMI port. The soundbar is ideal for a Samsung TV set. If you have one, you can control the TV and the soundbar using a single remote control.
The game mode of the soundbar allows you to intensify the sound volume. Make sure that you have a gaming console connected with the TV.
The soundbar has a dimension of 7.4 * 86 * 5.4 inches.
When you buy it from amazon.com, it costs 8499 INR.
JBL SB 110
The JBL SB 110 Comes with a soundbar only, and it doesn't include a subwoofer. The bass drivers get integrated into the soundbar for low-end frequency.
It comes with an HDMI arc, optical and Bluetooth.
It supports only Dolby Digital. The JBL SB110 comes with a separate case for the remote control and has a physical control menu bar on the top of the TV set.
Xiaomi MI soundbar
If you have a low budget and want to spend much less than 10k, Xiaomi is your best bet. There is no denying that the Xiaomi soundbar comes with a fair price and an elegant appearance. Additionally, it comes with an array of input options.
The only downside is that it doesn't include a remote control. It's available with an attractive black and white design and a premium matte finish. There are physical controls on top of the soundbar as well.
JBL SB21 Soundbar
JBL SB21 sound system comes with a subwoofer. It comes with a sound output of 110 w.
It comes with Dolby Digital encoding and remote control in a separate case. You can connect a soundbar to the TV using HDMI Arc support.
Of the multiple connectivity options available in the soundbar, use HDMI, optical in, and Bluetooth.
The dimension of the soundbar is 90 x 6.5 x 6.2 inches.
Conclusion
If you're looking for the best soundbars under 10000 in india, you can choose any one of these. If you want to know the factors to consider before buying a soundbar, return to the section.