Business is the source which makes the investors have a great tribute in their life running a business successfully is not a simple task and that has made some to have a successful business life. Let's have a look at the top 10 richest person in India below.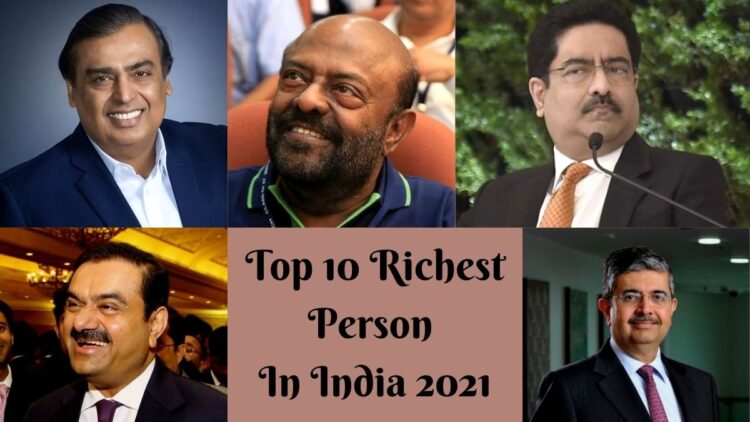 Mukesh Ambani
As we all know Mukesh Ambani is the richest person in India. His full name is Mukesh Dhiruibai ambani. He was born on April 19th, 1957. He is one the leading businessman and great shareholders of the reliance industries and that had made him have the largest investment in all other purposes and he is the chairman, managing director of the reliance industries. It is a fortune global company and this is the most valuable company by market value. He was born in the British crown colony of Aden and he was a businessman who is doing some textiles business and in 1958 Mukesh Ambani's father decided to move back to India and Mukesh Ambani has two sisters and one brother his brother name was Anil Ambani and Nina bhadrashyam and Dipti dattaraj Salganokar. His net worth is $84.5 billion.
Gowtham Shantilal Adani
Gowtham Adani was born on 24 June 1962 and he was a billionaire businessman. He was a Gujarati and he has seven siblings. His parents were from tharad which is present on the north side of Gujarat. He finished his schooling in Ahmedabad. He finished his degree at Gujarat university. But he discontinued his college in the second year and he was very much interested in business and that had made him shine soon in the business and while he was a teenager he moved to Mumbai with great dreams about his business career. He worked as a diamond sorter for two to three years under the Mahendra brothers and after completing the experience of two to three years he started his own business as a diamond sorter in a place names Zaveri bazaar which is in Mumbai. His net worth is 50.5 billion.
Shiv Nadar
He is one of the topmost best businessmen in India. We all knew about the enlarged IT company named HCL technologies and he is the owner of this company and he was born in 1945 moolaipozhi village. A man who was born in a village and struggled a lot to come and today after a ton of hard work he is standing in the best place as a billionaire. Which makes each and every Indian feel proud about this aspect. And he is a good inspiration for most of the village youngsters who are all looking to come by holding the best business. He finished school at Trichy after changing lots of school after changing lots of schools. This made him know lots of things and he learned a lesson to survive where he is. That does not matter. He did his degree in an American college in Madurai. And one more degree in electrical and electronics engineering in PSG college Coimbatore. His net worth is 23.5 billion. Shiv Nadar is one of the top 10 richest person in India.
Radhakrishnan Damani
He is a great sharemarket broker and investor. He belongs to the Maheshwari family who lived in a single-room apartment at the beginning of their life. He was a college dropout after completing one year. The reason behind this is his father passed away and that had made him take the responsibilities of his father and he started showing interest in business and he jumped into the share market and started doing brokerage and investing in share markets. The clear idea on the investment and brokerage on share market was very clear from his side that made him shine and his net worth was 14.5 billion.
Uday Kotak
Uday Suresh Kotak was born on March 15, 1959. This is a famous bank which we all knew and he is an Indian billionaire. Suresh is a leading banker and executive vice-chairman and managing director of the bank. While India was in a closed economy Kotak Mahindra bank decides to startup a multinational startup and that is the best idea which made Suresh have a leading place for his name in India and people are started hoping lots and made lots of deposits in his bank and elaborated the concern and became as leading billionaire banker in India. His net worth was 1,380 crores.
Lakshmi Mittal
Lakshmi Niwas Mittal was born on June 15, 1950, and he was one best business magnets in India and that had made him look business as a life and he watched all the easy to get success in business and he was the holder of Indian steel magnate which is based o united kingdom and that had made the consumers have great belief on the products Indian steel magnate. Mittal belongs to the marwadi family and he had finished his college in St. Xavier's college which undergoes the in the University of Calcutta. Niwas released the products which gave the best hope for the people and that made him stand at a success. His net worth was 2000 crores.
Kumar Birla
Kumar Mangalam Birla was born on 14 June 1967 and he is an Indian billionaire. He was the chairman of Aditya Birla group and they are building the best hope in between the goods and products that they are releasing which makes the customers fall in love with the purchase and holding that that they are doing with the company. This is a business that is done at the level of multiple millions and making a strong bond between the customers and employees was the basic reason that made him stand at the best place of his business. His net worth was 1,420 crores.
Cyrus poonawalla
Cyrus poonawalla was a great businessman who is running his business very successfully and he is the chairman and managing director of Cyrus poonawalla group that also include serum institute India. This is the largest biotech company where lots of vaccines are manufactured in billions of numbers and supplied throughout India for the safety of the people and vaccines are important to get relief from something that the people are struggling from sick and more else which makes the human beings feel sick and bad. A biotech company which is huge in number in India and this is the best producer of those things which had made the big trust from the medical field.
Dilip Sanghvi
Dilip shangavi was born on October 1 in 1955 and he is one of the best billionaire businessmen and he is also one of the richest men in India. He was the founder of sun pharmaceuticals. He was awarded the award named Padma Shri in 2016 for the best work which he did. He started helping his father who did a drugs business in Kolkata. Later he started to look at the depth of the business in all aspects and that made him have great turnover on the business. His net worth is 1,360 crores.
Sunil Mittal and their family
Sunil Mital was born on 23rd,1957 October and he is an Indian philanthropist and billionaire businessman. And also the founder and chairperson of Bharati enterprise. The business is the thing which makes the investors take huge amounts of profit and as the technology had developed very much everything had become a business and people are starting to live their lives as per the trend. S that made the lots of business to get success. Likewise, Sunil had great hope and best ideas and thoughts on his business and he reached.