A watch can reveal a lot about your character and attitude. They complete your look and bring out your personality. They also allow you to stand out from the crowd. We have listed the ten best watch brands in India for men in this post.
Top 10 Best Watch Brands in India for Men in 2022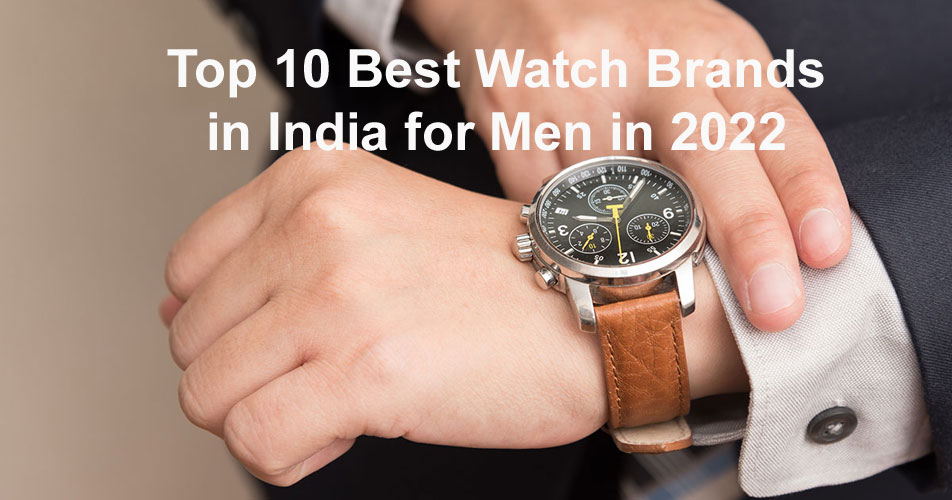 1. Emporio Armani
Emporio Armani is one of the best watch brands in India for men, with a wide selection of watches. It is a well-known Italian luxury brand in the fashion industry that was founded by Giorgio Armani and is one of the most preferred and popular brands. Giorgio Armani's sub-brand is Emporio Armani. Emporio Armani is well-known for its high-end products and accessories, such as watches.
2. Tommy Hilfiger
Tommy Hilfiger is an American fashion clothing company that creates trendy accessories for both men and women. Tommy Hilfiger is known for its high-quality craftsmanship and premium appearance, and it offers a diverse range of watches for men in India. This brand offers a watch to suit every man's mood.
3. Timex
Timex is an American watch brand that was founded in 1854 and has since become well-known as one of the best and most famous men's watch brands. It is a well-known brand in the Indian watch market due to its high quality, fashionable designs, dependability, durability, and reasonable price. Timex offers expensive to reasonable world-class luxury watches ranging from analog to digital, so almost anyone can afford it. Timex also introduced several low-cost watches for people of all socioeconomic backgrounds.
4. Fossil
Fossil is a watch company that sells designer watches ranging from classic to trendy to sports. Fossil is an American lifestyle brand known for its authentically vintage and classic design. The brand is known for producing high-quality, premium products that preserve the best of the past while modernizing it for today's consumers. Its watches reflect its distinct style and level of mastery. Fossil has some of the best and most appropriate blends of stylish watches for men.
5. Fastrack
There is no competition for Fastrack wristwatches, which are specifically designed for the nation's youth. Fastrack is another well-known brand of men's watches in India. Fastrack has a special place in our hearts and lives. Fastrack, a Titan sub-brand launched in 2008, has become one of the fastest-growing casual watch brands in India, causing quite a stir among the young. This is the most popular and well-liked brand among the twenty-first-century generation.
6. Casio
Casio is another well-known and well-known watch brand known for producing the most affordable and feature-packed timepieces in India. Casio has a distinct design style and a wide range of watch models at a variety of prices, making it one of the most popular and well-known brands in India. Furthermore, Casio's watches are relatively inexpensive.
7. Titan
Titan is India's most popular, trusted, and well-known watch brand. Titan is an indigenous watch manufacturer that is not only a leading watch brand in India but also the world's fifth largest watch manufacturer. Titan watches are well-known for their elegant and appealing masterpieces. Titan watches are the best because they are available in a variety of styles and models at a variety of prices. Titan also carries well-known Indian watch brands such as Sonata and Fastrack.
8. Citizen
If you like to wear classy, expensive premium-looking luxury watches, Citizen is the brand for you. Citizen is known for its innovative technologies and flawless design. The brand offers a wide range of high-end luxury timepieces, from analog to chronograph collections. Citizen is well-known for its digital watches, and it also offers Analog, Analog-digital, and Chronograph models. Each watch is a work of art that combines beauty and technology. Citizen has also released solar-powered watches that last six months and do not require cells or batteries.
9. Giordano
Giordano is one of the top ten men's watch brands in India, owing to its modern-day advanced design watches. Giordano offers a diverse selection of timepieces in a variety of colours, dials, shapes, and price ranges. Giordano is an international retailer based in Hong Kong that offers beautiful watches with quartz, automatic, and hand-driven movements. Among young people, the brand is well-known for its expensive and elegant appearance.
10. Daniel Klein
Daniel Klein is a popular and well-known watch brand among Indians, with a large selection of watches for all occasions and attire. Daniel Klein also has a wide selection of affordable watches for men and women in a variety of designs, colours, and shapes. This brand is well-known among Indians because it offers timepieces for both formal and casual wear. The easy availability of this brand's watches on online stores makes this brand popular among Indian consumers.
Conclusion
These are the top ten best watch brands in India for men worth investing in for any occasion or style. We hope that the information in this article will assist you in selecting the best timepiece brand that meets your needs while remaining within your budget.