Finding the best photographer for your special day is very terrible as there are hundreds of photographers available in the market. But, not all photographers have the ability to stand up to your expectations. To avoid regret and your future, you should keep in mind your tips while hiring the best photographer for your wedding days.
Things to take care of while hiring the best photographer for your wedding:-
You should be clear about your budget. It will help you to finalize the best photography services without burning your pocket.
You should talk to your photographer regarding what style of photography you want or whatever your expectations are.
Instead of searching for photographers in the last month of your wedding. You should try to fix your wedding photographer before 2 months of your wedding and book your appointment.
Avoid being in a hurry when choosing the best photographer for your wedding. You should meet at least 7 to 8 photographers and then select the best.
You should check the photographer's portfolio, previous works, and feedback from the clients.
If you have any queries regarding the photographer, you said to ask them before your wedding. Like whether they use the latest photography tools or not etc. It will help you to avoid any confusion which can happen during your wedding.
Top 10 wedding photographers in Gorakhpur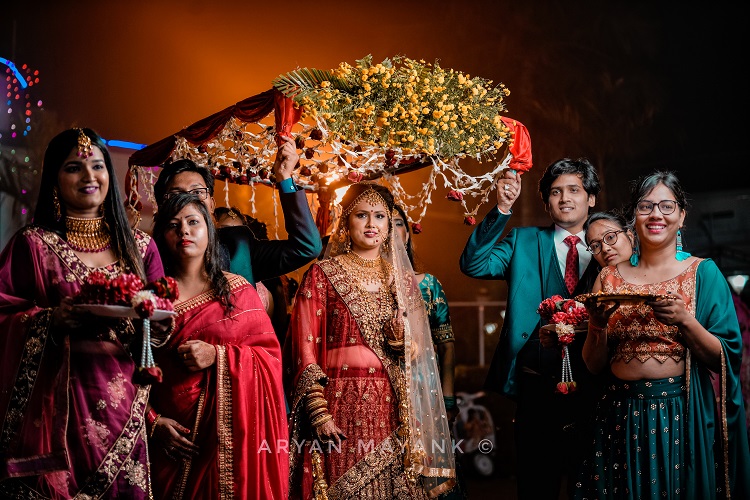 There are many photographers in Gorakhpur. We have listed the top 10 best wedding photographers in Gorakhpur to help you in finding the best photographers.
1. Image Maker (Recommended)
Image maker photography is the best photographer in Gorakhpur. One of the best things about image maker photography services is the team members who are very humble and friendly in nature. It is very essential to take care whether the photographers are good in nature or not. You will feel comfortable with them or not as you have to spend a good amount of time photography. They have years of experience and use the latest photography tools to make the photograph much more eye-catching and memorable.
For Booking Please Click:- image maker
2. Vaibhav Photography
Vaibhav Shukla is the founder of Vaibhav photography situated in Gorakhpur, Uttar Pradesh. He is a renowned professional photographer and cinema maker. It was founded five years ago. The team members of Vaibhav photography are very friendly, creative, and hardworking individuals.
3. Ss photography
Apart from wedding photography,  Ss photography is famous for corporate photography. They also provide other services like events photography, kids photography, maternal and newborn photography, Aerial photography, commercial photography, and videography services.
4. RP Graphic
It was founded by Rishikesh Maurya. It has been providing its Services since 2009 and have successfully covered more than five hundred weddings. They are perfect at finding the perfect angle of capturing memories, lighting, and Colour expressions. Apart from wedding photography, they are best at traditional photography.
5. The Wedding Bells Photo & Film Shop
It was founded by Richa Singh, a girl based in Gorakhpur. It has six years of wedding photography experience and has covered about eighty weddings till now. They are best at candid photography too. They provide their photography and videography services all over India.
6. Villen Studio
It is directed by ADix Media and has been working for the past ten years. They capture corporate and wedding events very well. They have different ranges of photography and videography pricing depending on the needs of clients.
7. Pixwedd Photo & Films
It is owned by Sudhir Kumar. They have been providing photography and videography services since 2009. They have captured more than thirty weddings. They provide their services all over India and traveling, staying charges are paid by clients.
9. Shutter Up Photography
It was founded by Abhijeet Singh and Siddharth Khurana. They have been serving since 2017. They have covered more than a hundred weddings. They are perfect at lifestyle portraiture, corporate photography, wedding photography, and real estate photography Services.
10. One Shot – Films ﹠ Photography – Wedding Photographer In Gorakhpur
It provides services like wedding photography and filmmaking services like Candid Weddings, Pre-weddings, Music Videos, Architectural ﹠ Interior Shoots ﹠ Fashion Photography and videography. One Shot – Films ﹠ Photography, are the best wedding photographers in Gorakhpur.
Conclusion
A photographer should have the knowledge of when to click the photos. Each photographer has its own unique style and specialization. So, you should select a photographer according to your requirements. If your wedding photographer is not good, you will feel disappointed for your entire life. As it can't be reversed and some days Only come once in our life. Hiring a photographer for your wedding is not difficult but hiring the best photographer is very difficult. We have also done a proper search on the best photographers in Gorakhpur to give you reliable information about them. I hope this information helped you.