Youtube is an app that will be defaultly present in all the mobile and that are the aspects which allow the users to get an update in all the aspects. Youtube is an app where the users can get all the updates and trending videos there. The content that is on youtube is huge in number and the users can get whatever things that they need to see or else they want to get the detail about it. There are lots of things on youtube and those things will be like cooking tips, makeup hacks, cartoons, movies scenes, and songs whatever the users want to get they can easily get via youtube with a visual. Visual learning allows the users to get a simple and clear idea about something in a short period. Let's have a look at the top 10 YouTubers in India.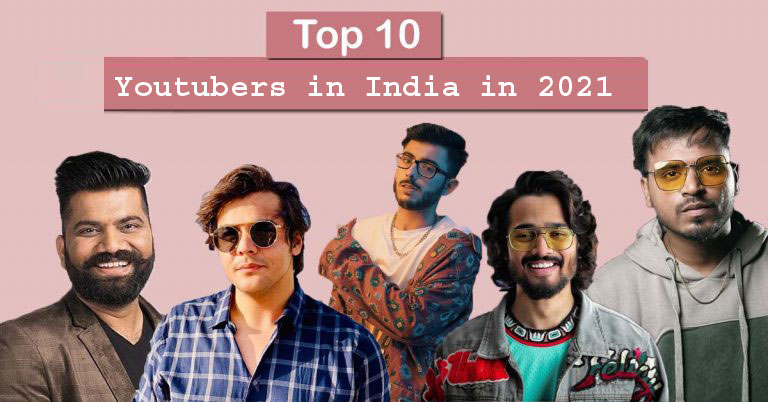 CarryMinati
The real name of this Youtuber is Ajey Nagar. He is a professional Youtuber and he was born on 12 June 1999. His age was 22 as of 2021 and he is a great Youtuber who had achieved a million subscribers for his youtube channel in a short period and that made him think and work a lot for his channel and those are the things which a Youtuber needs. He mostly updates the videos which are comedy and makes his subscribers feel happy and relaxed while they are watching the videos from his channel. He had uploaded 173 videos and reached 29.4 million subscribers.
Bhuvan Bam (BB ki vines)
This is a channel called BB ki vines which was owned by Bhuvan bam and this is the channel that makes the users have lots of funny and more innovative things. So at the same time, the users can gain the best knowledge and they can have some fun. This is what all the people are looking forward to at a time. There are two benefits that mean no one will miss them. One of the best Youtubers who make you do good things in a short time.
Amit Bhadana
This is a channel which was started by a guy who belongs to the rural section and he will post the video like which is apt for the scenarios that belong to the real-life and that are the things which will really encourage the people and make them to under the feeling and requirements of the people who are belonging to face lots of financial and some problems in their life. This is one of the important aspects which makes the society to have to look at the state and level of the people to make some good things and more about the development of the society. This is a channel that allows you to have a look at the people's sufferings and humanity's growth. He has 22.8 million subscribers.
Ashish Chanchlani
Nowadays people are on a very busy schedule and they don't have time to spend with family commitments and that is a bad aspect which will not allow a particular person to spend time for personal aspects. As they were in the busy schedules they will have only few time to make some relaxation and that are things where they can come out from their stress so they would use it to watch some videos means they can go thighs channel which makes you have a ride of laughter. All the videos that are posted on this channel are very funny and comedic so that the users can have a great time with this channel. He has 24.1million subscribers.
Harsh Renewal
This is a channel where you can enjoy the comic timing and the character's portrayal in the best way and this makes the subscribers have lots of fun and they can also know more about lots of people who are all portrayed here in this channel. This is a channel where lots of celebrities who are all in trend the users can get the update and the fun too. He has 12.4 subscribers and he has posted 150 videos.
Mostly Sane
She makes lots of comedy videos and those are things which real people are in need of today's hot city life. They have only a little time to take a rest and that is the only aspect that is very perfect for the YouTubers. She started making more innovative videos to make her subscribers' attention turned to her and she had posted 857 videos and she has 6.4 million subscribers.
 The Time Liners
This is a channel where you will get some innovative information about all the fields in society. Like medical, schools and colleges and even small shops and more. These are the things which are portrayed here with lots of funny factors. Each and everyone has different types of taste and those are the things that make the subscribers have a look at their favorites. This channel has 6.59 million subscribers and that is the thing and the number of videos in this channel is 275.
The Viral Fever
This is a channel where you will get the series and those are things that will make the viewers wait for the next video. Series are the things which will be very interesting and it will not be at a single at the end of one video there will be twists and it will be mentioned as to be continued and this what the important aspect makes the users to0 have look on their next video. This channel has 7.67 million subscribers and the number of videos posted on this channel is 352.
Elvish Yadav
This is a channel where the users are supposed to see random videos on something else which the majority of the people are interested in and that makes the subscribers have to look back on their life day which they have been through. Like school days and college days and more like this. This is a channel that reached 7.65 million subscribers in a short period for just posting 119 videos.
Round2hell
This is the channel where you can see lots of series and rando videos and those are the things which are highly liked by the people. And this is the thing that makes the users have a look at these interests. This is a channel that reached 19.2 million subscribers in a short period that had posted just 64 videos.
Conclusion
Here in the above passage, we had a look at the top 10 YouTubers in Chennai and those are the things that are very interesting and hope you have got some things unique here.